Many experienced construction pros prefer working as construction managers rather than construction contractors. And for good reason. Compared to conventional construction contracting, construction management contracting offers major advantages: far less risk, very little working capital needed, no employees, no inventory, no payables, no warranties or callbacks, no investment, no liens. And it's perfectly legal.
Better still, some states don't even require CM contractors to be licensed. More on that later.
What's different about CM contracting? A construction manager is a consultant to the owner, pure and simple. The consultant's job is to protect the owner against high costs, delay, shoddy work and risk of loss. No one else on the site shares that agenda. The CM recruits contractors and subs, schedules work, orders materials, and tells the owner when it's time to pay bills. All contracts are in the name of the owner. So what could go wrong?
Plenty. Here's a short list.
Trap 1, Bad Contract
CM contracts are very different from construction contracts. There's no set price for the work. Your contract has to define precisely what's included in your responsibilities as CM. The only charge is your consulting fee. Usually that's some percent of construction cost. But it could be a set cost per week or per month. For more on the CM contractor's scope of work, click here.
CM contracts can include an estimated cost of completion – or set a maximum consulting fee. But that's not a construction cost. CM contractors don't guarantee construction costs.
For CM contracts that comply with both federal law and the law in your state, regardless of the type of construction, have a look at Construction Contract Writer. The trial version is free.
Trap 2, Mistakes in Execution
CM contracting is walking a fine line. Slip out of the CM consultant role and into construction contractor mode and you're in trouble. A case decided earlier this month in Washington DC illustrates the point.
Karen and Charles Evans hired the C.A. Harrison Companies, LLC (CAH) to manage their home improvement project. CAH recommended another company to serve as prime contractor. Karen and Charles ratified that choice. So far, so good. But shortly after work started, the prime contractor quit. CAH didn't mention any of this to Karen or Charles. Instead, CAH set out to finish the job as prime contractor. Eventually, the Evanses discovered what happened and terminated their agreement with CAH. When CAH sued for breach of contract, the Evanses counterclaimed, arguing that CAH had no enforceable construction contract and wasn't licensed to do home improvement work. The Superior Court agreed, ordering CAH to refund $314,394.35 to Karen and Charles.
That's the obvious case. But this theme has subtle variations. For example: Every significant job comes with changes. What does a CM do when the owner wants to change some construction detail? The thing not to do: authorize the change and sign a change order. That's construction contracting. Instead, draft a change order for signature by both the owner and the contractor.
Another example: Any CM contractor who writes a check to cover job site labor or material costs is courting trouble.
Trap 3, Check Your License
Some states (CA, DC, TN, NY, VA) have decided that CM consultants need a contractor's license. Other states (MT) have gone the other way, no license is required. Louisiana went half way: CM consultants aren't construction contractors but have to offer the same warranty that's required for construction contractors. In other states, the issue is still open. My guess: Construction is a heavily regulated industry. States aren't going to let clever operators slip under the net by claiming to be consultants rather than contractors. Eventually, most states will task CM consultants with meeting requirements set for conventional prime contractors. For residential work, that will include giving all the notices and making all the disclosures required in residential construction contracts. But this hasn't happened yet. So CM contractors in most states still have plenty of wiggle room.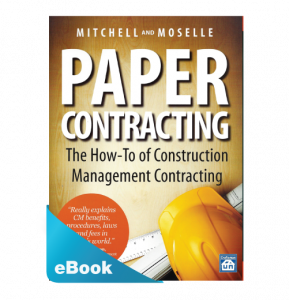 If you need a good "hands on" guide to CM contracting, have a look at the book Paper Contracting. A PDF download is available for less than $30.